Thespis are the UK's premier costume hire company
"Complete shows. Completely simple."
Your production deserves the very best costumes, and luckily for you, you need look no further. With over 30,000 costumes and 3500 pairs of shoes, boots, accessories even the required weapons for your production. We're sure to have what you need. We include free footwear with all costumes hired if applicable to the costume.
Thespis Costumiers is an award-winning family-run business nestled in the quiet heartland of East Anglia, whose costumes have been involved in numerous award-winning productions across Europe; from The Royal Windsor Pageant, 5-star Edinburgh Fringe shows, to countless regional theatres and schools of all shapes and sizes across the UK, to Ireland, Iceland, and beyond!
We proudly offer 5-star customer service as standard with our 5-star costumes, so there really is nowhere else to look. We costume international shows within Europe & EEA countries. But fear not our North American friends, soon Thespis will be coming to your shores!
We have no published price list as our shows are tailored to your demands. Don't let that put you off, our professional service team always aims to accommodate.
....Within reason of course!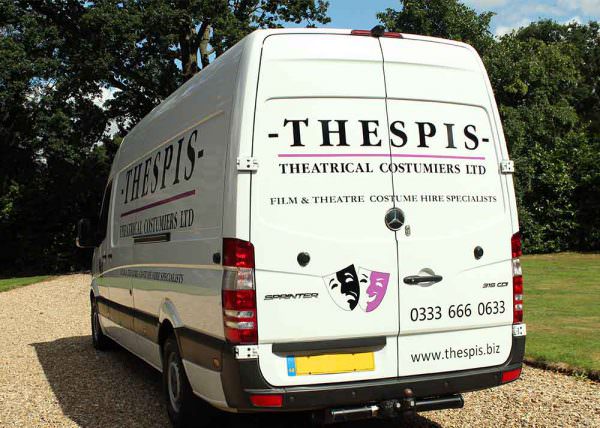 Pick up the phone and feel free to call one of our friendly team or use the contact form for your individual quote. We promise to get back to you within 48 hours.
Specialising in costuming complete productions for professional, adult and youth theatre groups, we will make sure you get the perfect costumes for your production.
Our service includes
Consultation and advice with costume plots.
A real customised feel to your production as we help customise your specific package.
Tailored to each individual actor, we take the headache out of costuming, leaving you to focus on the performance!
The chance to visit one of our sites and work with our knowledgeable costume team who can help you find exactly what you need, who can explain limitations, benefits, etc.
A golden service delivery team who drop off your costumes in our unmistakable Thespis vans, with your costumes carefully packed in our extra-strong secure weather-proof shipping crates.
Flexible delivery and collection slots available including weekend after show and Sunday mornings option's.
Choose Thespis as your supplier and get access to a wealth of knowledge, experience, and care.
We are always open to work with the following:
Professional musicals/plays
Schools / Universities
Shakespearean theatre
TV/Film Productions
Corporate events
Photography shoots
Publicity events
European / EEA complete show hire available. We do hire individual costumes, but we do have a minimum hire charge of £50.00. Can't see what you're looking for? Give us a call.
Viewings by appointment only due UK Gov Covid restrictions.
The Thespis Team
About us and what to expect from Thespis
Corparate Policy Statement Documents
Corporate Governance / Equality and Diversity