Fiddler on the Roof Costumes

Thespis are pleased to announce that a new costume set for this show will be available from October 2021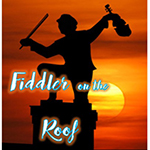 As the curtain goes up, we hear Tevye saying, "without tradition, our lives would be as shaky as a fiddler on the roof"
And that's exactly what this tug-at-the-heartstring musical does. It asks us to reflect on what and who we turn to when the world around us begins to wobble, do we, or can we rely on our traditions, our faith to see us through? Or are we fated to change ourselves, perhaps losing a little (or perhaps a lot) of our identity, of who we are along the way.
Based around the delightfully candid stories of Tevye and his daughters by Sholem Aleichem, it was adapted into a book by Joseph Stein, before being transformed into a musical, with Jerry Bock writing the music and Sheldon Harnick the lyrics.
It tells a sweeping tale set in Anatevka, a Jewish shtetl in Imperial Russia's "Pale of Settlement" around 1905, where we follow Tevye the dairyman, as he struggles to hold on to his respected, traditional identity in the community, while stomaching the men his daughters bring home wanting to marry, with each man more modern than the last, and as Tevye sees it, less interested in "tradition" too.
Set against the backdrop of the Tsarist pogroms: the purges of Jewish communities through Russia that caused a great exodus and saw the Jewish population hounded out, & pushed from pillar to post across Europe, we are invited into Anatevka and Tevye's home with utterly unforgettable musical numbers that will have you off your feet one minute rejoicing the majesty of life, and then reaching for your handkerchief and it's cruelty the next.
Fiddler on the Roof tells a uniquely honest story, one of the greatest importance to society; one so significant that it must never be forgotten, one of the hardships and joys of life, of principles and values in the face of love, the tribulations of marriage, the frightening dangers of racial prejudice, the sacrifices one must make to survive, and of course... TRADITION! - L'CHAIM!
Costumes for Fiddler on the Roof
BLOG PAGE
Take me to Fiddler on the Roof show page
About us and what to expect from Thespis