At Thespis, we find ourselves quite often in the fortuitous position whereby generous individuals wish to donate garments to us; jackets, boots, top hats, even wedding dresses of yesteryear.
Thespis has always had a policy of taking on such items, doing any necessary repairs and then letting them see new life touring the length and breadth of Europe in our clients productions.
So when Caroline Walker approached us, asking whether we would be interested in items of clothing belonging to her parents, undoubtedly we said yes. A large carry-bag and suitcase arrived at our offices a short while later, and with all the excitable gusto and curiosity of a young child spying an unopened dress-up-box, we delved inside to investigate what treasures lay in wait (with more care might we add!).
Caroline had graciously sent us suits and jackets worn by her father, and a bounty of dresses worn by her mother, all beautiful, & all of the finest quality.
Suits and dresses made some 100 years ago up until the 1970's were really made to withstand the wearer's entire life if treated right, quite the contrast to the disposable nature of today's fashion.
A suit would be made from such well-spun cloth and sewn so dutifully that the buyer seldom wore them out, they were to be taken in and out as required to fit any fluctuations in shape or size of the wearer.
These suits only met their end at the passing of a trend, to be hung away at the back of the wardrobe, or to one day be passed down to sons or daughters, rather than be discarded.
Today fashion is all too fleeting. What is 'in' today may already be 'out' by tomorrow.
To acquire quality garments like those received from dear Caroline, in today's market would cost more than a few pretty pennies, but it does remind us all here at the office of how damaging the disposable fashion industry has become. Perhaps today's youth outwardly change themselves so quickly because of societal pressures, or the forever-more-overbearing advertising markets making quick bucks, or rather it's something further within themselves that struggles to reflect the world around them. Either way. I fear it cannot go on indefinitely....
We seldom know anything about the people that wore the garments we're sent - BUT - on this occasion, we received so many stunning suits and dazzling dresses, I was compelled to know a little more. I asked Caroline about her parents, noting they must have been quite the "snazzy dressers" & she very kindly sent me a photograph of her parents with some information enclosed.
Both Jean & Geoff Walker were born in the 1920s and married after the war in 1950s. Her father had served in the RAF during the war stationed in the Far East. Both were born and bred in the Yorkshire market town of Doncaster and never moved away, raising their four children there.
After the war, as part of the demobilisation programme, her father was granted the opportunity to attend University where he studied civil engineering and joined the Doncaster and District Water Board after graduating. There he rose through the ranks to become a Divisional Director for Yorkshire Water.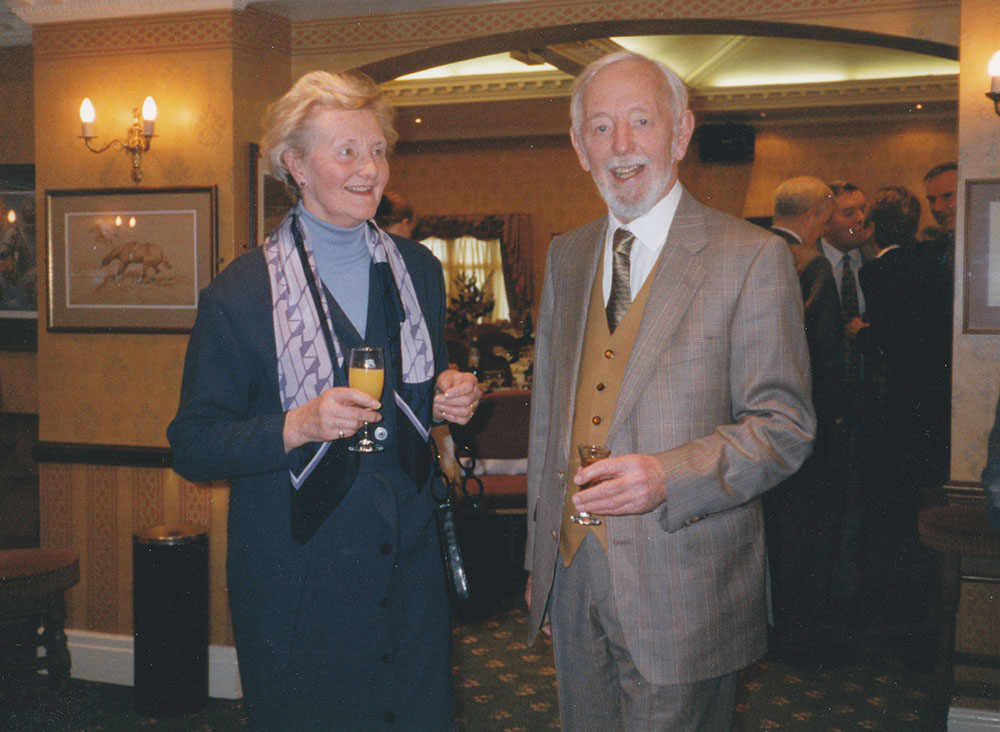 Jean & Geoff Walker c 1990