Hunchback of Notre Dame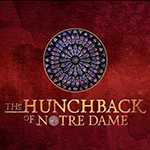 Principals
The deformed bell-ringer of Notre Dame and Claude Frollo's charge
Esmeralda
A beautiful and free-spirited gypsy
Phoebus De Martin

Captain of the Cathedral Guard
Frederic Charlus
Lieutenant of the Cathedral Guard
King Louis XI
King of France, nicknamed the Prudent
Jehan Frollo
Claude's reckless younger brother
Florika
A gypsy
Clopin Trouillefou

King of the gypsies
Dom Claude Frollo
Archdeacon of Notre Dame Cathedral
St. Aphrodisius
A stained glass image that comes to life
Get your license from MTI
Hunchback of Notre Dame Costumes
All new for the 2022 season.
The complete costume set for Hunchback of Notre Dame
Click on image for gallery and see extra photos in right hand side gallery.
Contact us for more information on this exciting new costume set from our studios for 2022 season.
Adapting a musical from one of the most well known stories in human history is no mean feat, but that is precisely what Alan Menken and Stephen Schwartz accomplished with their music and lyrics.
Victor Hugo's "The Hunchback of Notre Dame" is more than just a popular Disney film, it is nothing short of a masterpiece, and when brought to life on stage it's brilliance becomes even more apparent.
It is at times an uplifting reminder of the true strength and resilience of the human spirit - at others a bitterly painful lesson about what being in love really means, what it asks of us, what we might win or lose by doing the right thing by love, and what dark display of depravity we might go to just to take it for ourselves - and at other times it is a harrowing and deeply unsettling reality check on the daily scornful oppression and judgement we succumb others to without so much as a second thought.
What better place to play out this reflection of ourselves and our society than on the charming boulevards, alleyways and grandiose landmarks of one of the most romantic cities on Earth - Paris!
But Hugo takes us deeper than that, he takes us to the end of the 15th century; to a gothic, far more shadowy Paris, where everything is laced with the fantastical and the frighteningly real. And in its centre, imposing itself over the city is the cathedral itself, Notre Dame.
So prepare yourself for an experience that manages to be both profound and spectacular - but hurry!! ...
.... I believe the bells have started to ring
A sweeping score and powerful story make The Hunchback of Notre Dame an instant classic. Audiences will be swept away by the magic of this truly unforgettable musical.
From the photo in the gallery above the Gargoyle mask is a head piece and was created for The Hunchback of Notre Dame. The term gargoyle originates from the French word Gargouille which in English means throat or gullet. The Gargoyle Mask is a head piece worn on top of the actor's head like a hat.
Original text for Hunchback of Notre Dame costume hire © Callum Blake 2021
Special thanks to Glenn Davison for taking photos for Hunchback. glenn@glenndavidsonphotography.com
Contact us for more information on this exciting new costume set from our studios for 2022 season.
These will be some of the best costumes for hire on the market. We do not compromise on costumes neither should you! drop us a line or call to discuss your next show.
" Professional Costumes For Amateur Productions"
Hunchback of Notre Dame
Click on image below to see more photos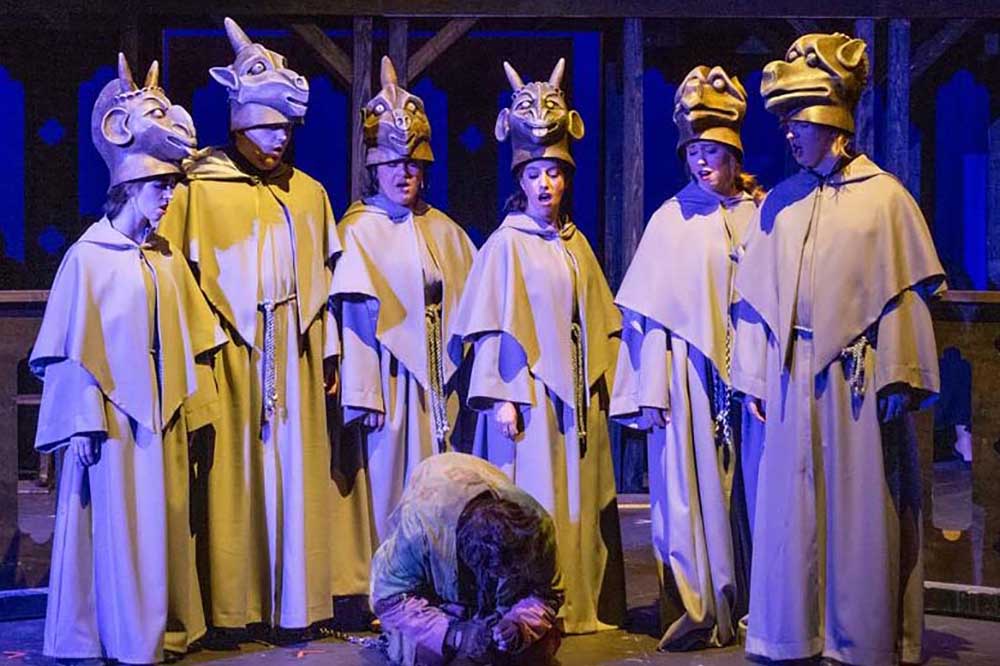 About us and what to expect from Thespis
Other full shows that we costume