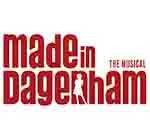 Principals
Rita O'Grady
Eddie O'Grady
Mr Tooley
Prime Minister Harold Wilson
Barbara Castle
Connie
Monty
Beryl
Clare
Sandra
Mr Hopkins
Get your license from MTI Shows
Made in Dagenham Costumes
Thespis Theatrical Costumiers have sourced many original period costumes for Made In Dagenham even the authentic Ford badges for the workers overalls!
You can be sure when hiring from Thespis Theatrical Costumiers that you will look amazing in any of the Made In Dagenham costumes from our collection, where our quality, cleanliness and high standard of replication is second to none.
Inspired by a true story and based on the hit movie, Made in Dagenham is the uplifting new British musical comedy about friendship, love and the importance of fighting for what is right.
Thespis Theatrical Costumiers are proud to continue to excel in bringing high quality costume hire on to the stage for this uplifting production. Made in Dagenham is set in Essex 1968. Each morning Rita O'Grady is just trying to get her husband out of bed, get the kids off to school and get to work at the factory on time. Life, however, is about to change forever when it's announced that the girls in the stitching room of Ford's Dagenham car plant will have their pay grade dropped to 'unskilled'. It's a show that blatantly condemns sexism and it shows, despite its mostly light tone, the real cost of fighting for their civil rights in the 1960s.
It is both compelling and fun to watch. Quickly drawing on a strength she never knew she had, Rita leads her friends in a battle against the might of Ford and the corruption of the Union supposed to protect them. As the girls' inspiring journey gets bigger than anyone could have imagined, the pressure is too much for some, but can Rita keep up the fight and the happy home she's worked so hard for?

"Let Us Dress You"
Made in Dagenham Costume Hire
About us and what to expect from Thespis
Other complete shows you may like.